I usually don't submit my films to festivals as I believed they are for Art's Film, well, most of the time. Plus, out there has like thousands and thousands of film festival over the world, and I believed for film submission, you need a certain level of experiences and skills, and making the right choice.
I'm certainly not that person, not yet. That is why I always wished to have a producer who helps and leads me on this...
So how did I know about
Akira Kurosawa Memorial Short Film Competition
?
It happened one day when I visited Kinokuniya. at the Japanese section's counter I saw this postcard about the competition. What attracted me was the theme of this year's competition - LIFE, and it required a short film less than 10mins, without any submission fees(that's the best part). Instantly I thought about
LIVE LIFE
, and from there I thought "why not give it a try?"
Months later, at Janury this year I received a letter from Japan. I was so excited because LIVE LIFE was announced for the nominated 19 films from over 500+ submission worldwide! There are 2 nominated films from Malaysia, one is from Ho YuHang, who directed "The Rain Dog" few years back.
It was a great news to me. Few months later, it came another greater news...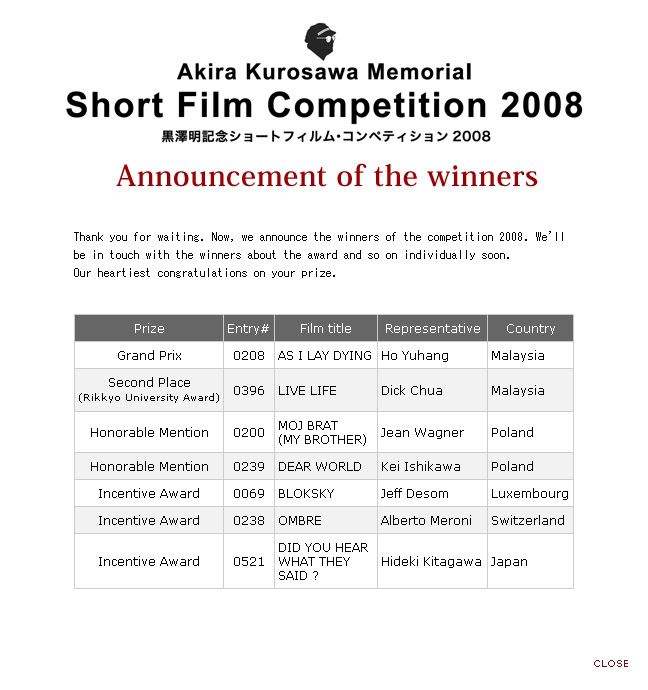 Wow! Unbelievable.... Congrats to myself, hehe~ And ofcoz to all the cast & crew members of LIVE LIFE! This would be the first award for LIVE LIFE, and for myself in filming career. Yeah! So can I go Japan for the awards ceremony??
Also congrats to YuHang for the Grand Prix! He's a great actor/director, funny guy!
More about LIVE LIFE, click
HERE
.